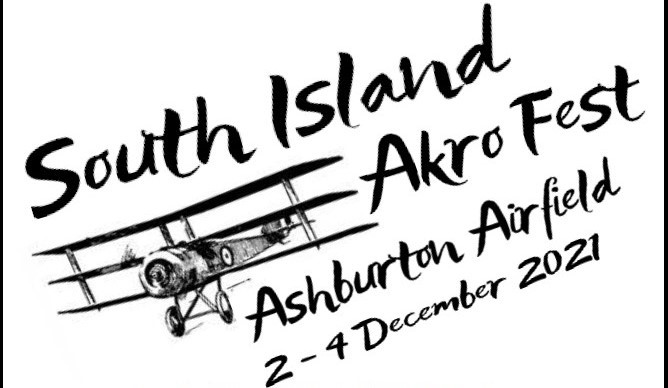 So it is that time again, lockdowns notwithstanding! Calling all aerobatic pilots/competitors/enthusiasts/supporters and all other aviators alike. Please find all  relevant info attached for the 7th Annual South Island Akro Fest, now run at Ashburton Airfield, hosted by the Mid Canterbury Aeroclub and Ashburton Aviation Museum.
We are all looking forward to spending the week down at Ashburton again this coming December. A huge thank you to Joe and his team at the Mid Canterbury Aeroclub for hosting us again this year. We have got a full compliment of categories open to fly in. Primary all the way through to Unlimited, and the Vintage Class, unique to the South Island Akro Fest.
Please read out latest Rules and Regulations
Accommodation: There are plenty of motel options in Ashburton. Mike Fowler has booked a large house, about 10mins on the Western side of the Motorway. It will sleep 8-10 easy. Please contact him direct for account details and cost. [email protected]. We will have transport to the airfield from the house. It is an awesome spot, a few of us stayed there for the Judges training weekend back in June. We will be hosting the Thursday evening BBQ there.
Timetable: Please see the attached doc for the timetable. Pretty similar to previous years.
Weather alternates: We do not have weather alternates for the event. If we do have interruptions, we will drop a flight as required to ensure we can still complete the competition on Saturday.
Safety Piloting: Please organize your safety pilot in advance if you think you may require one. I personally will not be available for safety piloting during this event but will be happy to assist with training/practice away from the airfield outside of the competition schedule.
Rental aircraft: South Canterbury Aeroclub and Canterbury Aeroclub have very kindly made their Alphas, ZK-VCC and ZK-VCF available for the event. Sarah has booked VCC already. Each pilot will need to contribute a set fee for contribution of the ferry cost. I will supervise sign-outs for both aircraft. Please advise if you would like to fly an Alpha. If we have more than 4 pilots asking for the Alpha will go ahead and book the second machine through SCAC.
Volunteering: We are always looking for volunteers. Some of you are aware of your extra roles assisting on the judging line this time round. If you are interested, please get in touch. Whether it be helping with filing paperwork or scribing, there is always plenty to do!
Registration: I have attached the registration form. Please send these through with payment to the Aerobatic Club in your earliest convenience. Cut-off for registration is 20th November. Once you have registered or signalled your initial interest, I will send an invitation for you to view the Online Registration database so you can see what stage your registration is at. It is also an opportunity to see personnel allocation and your fellow participants. Note: Registration is required whether you are volunteering or competing. 
Contest Communication / Notifications: We will be using WASAPP for communication again this year. Please include your cell ph number in registration and download the app so we can setup the chat in advance.
Trophies: Please return your trophies engraved and clean.
Saturday night Prize Giving/Dinner: A huge thanks to the Ashburton Aviation Museum for hosting us for the Saturday night function. Please advise your attendance for this in the registration and indicate how many will be accompanying you. Pay direct on the night. 3 course meal, fully catered.
Covid-19: Under the current restrictions, we are able to run this event. We will be following Mid Canterbury Aeroclubs protocols on this. Any queries. Please contact me or the Club direct.
Key Contacts:
Andy Love – Event Organizer – 021 217 9170
Lachlan Falconer – Contest Director – 021 258 1454
Russell Bell – Chief Judge
CFI Mid Canterbury Aeroclub – Joe Brown – 03 308 7850
Hangarage: Ian Begbie and the MCAC have very kindly made their hangars available to us so there are no issues regarding hangarage.
Sequences: Please check our sequences page for the current Known sequences. Free-Known compulsory figures are also found there.
Categories: We will be running a full compliment of categories this year.
Primary
Recreational
Vintage
Sportsman
Intermediate
Advanced
Unlimited
We are very much looking forward to the competition. You can never be sure what the weather gods will roll our way but we will make the most of whatever is dished out. I will not send a reminder out for registration but this will be circulated via social media. Any queries, please do not hesitate to get in touch. Have a great week and get practicing!
Event Timetable
Date
Description
Wed 1st
Arrivals / Practice

Note: Briefing to be completed by Andy or Lachlan prior to flying in the box

Thurs 2nd
0800: Briefing (Aeroclub briefing room)
0900: Practice
1200: Lunch
1300: Knowns commence
1800: Box closed (Aeroclub Bar open at 5:00pm)
Fri 3rd
0800: Briefing (Aeroclub briefing room)
0900: Knowns completed. Free's / Free-Knowns commence
1200: Lunch
1300: Free's / Free-Knowns complete
1800: Box closed (Aeroclub bar open at 5:00pm)
1830: BBQ hosted by the Mid Canterbury Aeroclub (pay on the night)
Sat 4th
0800: Briefing (Aeroclub briefing room)
0900: Unknowns commence (Sports/Inter/Adv)
1300: Lunch – hosted by MCAC
1400: 4minute Free-Style
1700: Box closed. De-brief at Aeroclub
1700: Bar opens
1800: Dinner – Ashburton Aviation Museum
1900: Prize Giving
Sun 5th
Departures, tidy up Aeroclub / hangar