About Us
Formed in 1985 by an intrepid group of aerobatic enthusiasts, the New Zealand Aerobatic Club (Inc.) promotes and facilitates the sport of Aerobatics throughout New Zealand, enabling pilots to enhance their flying skills through the joy and freedom of aerobatic flight.
With encouragement and the enabling of training and coaching at regular Club events, Members are able to enjoy the thrill of competition in a social environment of friendship and camaraderie.
Entries close on Tuesday 31st of January… in only three weeks!  Entry form is here…
https://docs.google.com/forms/d/e/1FAIpQLSdE1P0Eq3dgc22p0DJ-6CPVUkzJHZnGcHWc0zjBOrK9HHV3OQ/viewform?vc=0&c=0&w=1&flr=0
ASAP; Please give us organizers a heads up via any means; email, WhatsApp, text, that you are planning on attending; and get your documents together and sequences sorted and entry done online as soon as you can please.
The full information for the Nationals is on the www.aerobatics.nz website or click here;
https://docs.google.com/document/d/1BxUaLhYSBEUEBeC-MCWc-ir-rSv0hT7i/edit?usp=share_link&ouid=109812179691730929346&rtpof=true&sd=true
Sort your accommodation ASAP. Now is the time to grab your friends and get a Book a Bach or an Air BnB asap. Alternatively, we have permission to erect a tent/camper/van 'City' adjacent to the Aero Club (like they do at Oshkosh). I do have an extra booking at The Gateway Motor inn if someone wants it, contact Morris.
The Aero Club has full kitchen and bathroom facilities to support us, so we should have a fun time being right on the field. If you have your own tent, van or camper – great! If not, flick us a message any way you can so that we can help sort out something for you. I can't stress enough how important it is to sort out some accommodation ASAP.
Sequences:
Have a read of the rules and understand what sequences you need to submit to the CD. The close-off date is the 31st January.
Primary, Recreational and Sports do have a Free Program.
In Primary, you are ONLY able to fly the prescribed Known Compulsory again.
For Recreational and Sports, you MAY fly the Known Compulsory again, or you MAY design your own Free (use Open Aero / NZAC Rules – Free program)
For Intermediate, Advanced and Unlimited, you MUST submit your own Free Known sequence, designed using the NZAC 2022/23 prescribed figures (use Open Aero / Power /NZAC / Free known/ Int / Adv or Unknown) The figures are also on our website in sequences.
Paperwork:
Check:
Your plane (release to service etc. Calendar dates.)
Insurance – we need to see evidence of current Third Party insurance of at least $2 million.
Pilot License, medical, BFR, Aerobatic Bi-annual, LLDA need to be current. Prepare these docs for the entry form.
Entry Fees:
Payable now!  Bank account details are on the entry form. Lunch is being added to the entry fee.
Primary         $120
Rec/Sports    $180
Int/Adv/Unl $240
If you are keen, you can enter in more than one category, in a different aircraft only, and at the CD's discretion.
Remember, you must be a paid-up NZAC member too. Membership is only $35.00
The subs form is here…
https://drive.google.com/file/d/1EPQt_6vI7Y0fG2WjVbhA-Aw6kATrpvnA/view?usp=share_link
Trophies:
We need these back. If you won something last year, please engrave it with your name in the same style as previously, then polish it and either bring it back with you, or send it to us c/- the Wairarapa Aero Club.
Landing Fees; This year, the Hood Aerodrome will be imposing standard landing fees on all aircraft – $10 per aircraft / per day (unlimited movements).
Timetable and other activities:
Mon 27th – Tues 28th. Arrivals /Practice / Setup / Tech Inspections.
If you are interested in Judging, there may be a Judging Seminar on Tuesday, followed by Judge coaching throughout the day (Tuesday/Wednesday morning are unofficial practice days).
LLDA refresher, for anybody who needs it, will be Tuesday night.
Wednesday  1st Mar, 1pm will be the start of competition.                                                                                                                                                                                                                Thursday night will be the Club AGM. This is your notification. If you have any general business for discussion, send it to the Treasurer ASAP. If you would like to be part of the committee or nominate anyone, please forward an email to Morris.
AGM Commencing at 7pm. The agenda as follows;
Apologies
Minutes from previous year, matters arising
President's/Treasurer's report
Election of officers
General Business
Thursday night will most likely be Unknown/Free Unknown handout night (weather dependent) so we will keep that one free. Pizza or BBQ at the club rooms for this evening.
Saturday evening will be the prize giving.
If you have any questions then please contact either Grant Benns (0210629929), Morris Tull (+971506449584/ +642102401094 when in NZ) [email protected] or Andy Love (021818816)
Cheers Morris.
Organising an aerobatic competition in the depths of a Waikato winter may be considered either complete madness or ridiculously optimistic… but as this year's Nationals had been cancelled I felt it was "worth a crack, Nigel" so we settled on Sunday 22nd May.
As the date approached, we had only a small entry list but encouragingly, we had attracted a good number of helpers who almost outnumbered the competitors! Unfortunately, in the week prior to the event the long range weather forecast looked (surprisingly!) like winter and COVID had reared its head again restricting me to isolate at home as a household contact until Monday 23rd, the day after the event. Whilst Grant Benns again stepped up and agreed to take on the Contest Director duties in the end winter had the last laugh and due to the worsening forecast we made the decision to postpone the Q2 Competition until the Saturday 4th June.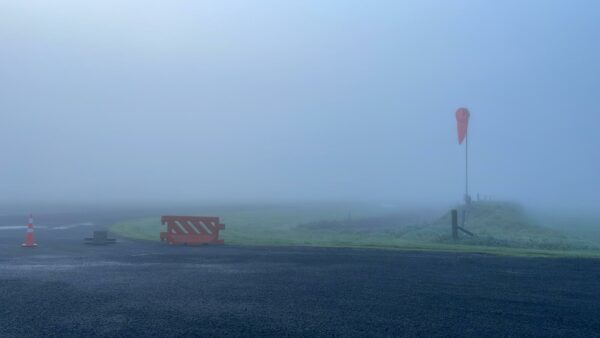 It has to be said that the weather leading up to the new date was awful. Wind, rain, thunderstorms, hail were all on display but, surprisingly, the Saturday forecast looked like brief respite before returning to "rain on the Warbirds Parade" scheduled for the Sunday. Sure enough late on Friday night the rain stopped, clouds parted, and views of the Southern Cross were available… it looked like Saturday would indeed be nice… and it was… for the whole drive to Mercer… except for the last couple of kilometres that were in thick fog! Infact arriving at Mercer, the Catalina Hangar wasn't visible from the runway! Grant and I stood somewhat dejected in the (albeit improving) gloom for a while until the sound of engines overhead heralded the arrival of both Chris Schadler from Whakatane in his RV3 and Issac O'Kell & Trish Stephens from Tauranga in her RV6a. By this stage the visibility had improved markedly (you could clearly see the cafe) but the persistent patches of fog were still troublesome and it took a bit of holding and a go around or two before both aircraft were safely on the ground. An hour or so later Brent Griffin also arrived from Ardmore in his Giles G202 and I had dragged the Zlin out of its hangar at the eastern end of the Mercer airfield. With tech inspections and pilot briefings completed, we were able to start the competition proper a little after midday.

Judging for the day were Grant Benns from just over the hill at Ramarama, Terry Johnson who had arrived in a haze of electrons (he drives an EV) all the way from One Tree Point near Whangarei, and also John Ashman who had left his (prop-less) One Design at Ardmore and driven over. Assisting on the judging line with scribing and spotting duties were Trish Stephens and Terry's partner Mel McMinn. David Wilkinson also made an extended cameo appearance assisting with tech inspections (and later with a smokey appearance in the box in his self built One Design). Another helper on the judging line was Clive Whitfield filling the spotter duties. Unfortunately Evan Yates, who had registered to help at the earlier postponed event had other commitments and couldn't attend.
First into the box was Brent in ZK-NUT flying the Advanced Free Known sequence that he only realised he was flying minutes before he jumped in the aircraft. [It pays to check the Order of Flight, Brent! Ed] Despite this, Brent flew well earning 2599.5 out of a possible 3500 points. Next in the box was yours truly, Mike Slack flying ZK-ZSO in my first outing in advanced. It showed! I scored well in the first couple of figures (scores ranging from 7.5 – 9.0) but my attempt at the 1.5 inside rolling 180deg turn from inverted didn't impress – zero! Followed a couple of figures later by an error in the spin that saw me exit in the wrong direction (although looking at the score sheets only one judge picked up on it – thanks Terry!) which meant that figure again scored zero… and, as I didn't pickup on the mistake, all subsequent figures also scored zero! Doh! My only consolation is that the two judges that did record scores for the rest of the sequence (before crossing them out and replacing them with zeros) had marks ranging from 6.0 – 8.0. Not too bad for my first attempt.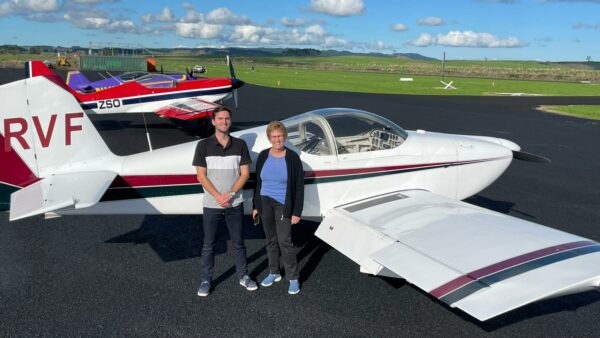 Issac O'Kell flying ZK-RVF flew the Sports Known sequence next and as a relative newbie to competition (this is his second event) and flew extremely well clocking up a few 9.0 from the judges. Next in Sports was Chris Schadler in ZK-WCO who, it has to be said, wowed the judges with couple of 10.0s for figures and 9.0, 10.0 and 10.0 for presentation! About this time Pierre "Poots" Pechon arrived from Gisborne in his newly acquired Super Decathlon and, after a quick briefing and tech inspection, launched into the box to fly the Primary Known twice (as a time saving measure). Considering he has only recently purchased this aircraft off Rob Fry, rated in it, and completed a significant first cross-country to get here, he flew well scoring 5.0s – 8.5s in his first flight and 6.5s – 9.0s in his second attempt.
Having completed the AM flights (albeit in the early PM), we rolled pretty much straight into the PM Order of flight slightly rejigged to allow "out of towners" enough daylight to get back home. A quick scan of the scoresheets shows that Primary, Recreational, and Sports pilots improved on their earlier scores however Brent copped a few zeros (to match my earlier ones) and a penalty for an incorrect safety manoeuvre. I was up as last flight of the day but unfortunately had a significant delay to commencing (due to parachute ops) and when I finally made it into the box the oil flap popped open during my first snap roll so I had to tech break and return to land. Without time to fix the issue and re-commence before the end of the NOTAM and competition, I elected to record a DNF for my second flight.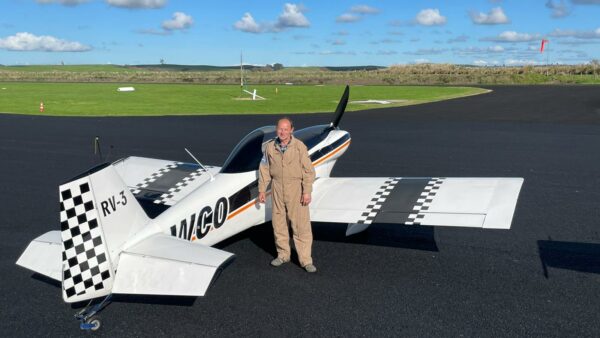 Once the scores had been entered into the scoring software (ACRO 5.0), Chris Schadler (Sports, RV3 ZK-WCO) emerged victorious with 85.8% followed by Issac O'Kell (Sports, RV6a ZK-RVF) on 79.8% and Pierre Pichon (Recreational, SuperD ZK-REF) in third with 77.0%. Full results can be viewed on this website HERE or click on the picture below.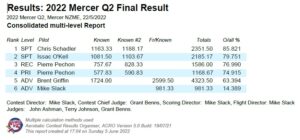 Mike Slack – Organiser
We have updated our sequences page with the 2022/2023 Known and Free sequences.
Examples of some of these sequences being flown are also available!